Roofing
The roof, just like any other part of the home or office, needs to be cleaned every once in a while. Roofing can come in a wide variety of materials. For example, the roofing on some homes use shingles (made from wood or from asphalt), while on other homes metal roofing might be used. Each of these different roofing materials require a different method for cleaning. The problem with cleaning the roof of our homes or office is that they are put through so much abuse by the elements. Learn all the time saving tricks and methods for keeping your roof clean and damage free.
Tips, Tricks, and Answers
The following articles are available for the 'Roofing' topic. Click the article''s title (shown in bold) to see the associated article.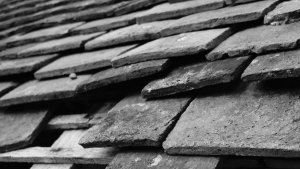 Cleaning Asphalt Shingles
Most home owners are surprised to learn that the stains they see on their roof are caused by fungus, and do not result from pollution and tree sap stains. Speak with a roof contractor concerning possible solutions for cleaning your asphalt shingles, and always follow manufacturers' directions, else you may void the warranty of your shingles.
Cleaning Downspouts
Having clean downspouts is just as important as having clean gutters, and fortunately, cleaning downspouts takes many of the same techniques. Here are some things to keep in mind as you clean your downspout.
Cleaning Wood Shingles
It is preferable to clean your wood shingles on a hot, sunny day so that the shingles will dry thoroughly. Start early in the morning, as cleaning a wood shingled roof is labor intensive and takes many hours to complete, depending upon how many helpers you have. Be cautious when walking on your wet roof, as it will be slippery.
Cleaning Your Gutters
Gutters can get pretty dirty and clogged, and if you want them to work the most effectively, you need to make sure they stayed clear and clean. Here are some tips to keep in mind as you go about cleaning out those gutters.
Removing Creosote from Asphalt Shingles
Whether it is after a particularly cold winter, or simply a cold snap, there comes a dirty job that needs to be done if you happen to have a chimney. That job is removing creosote stains. This is a particularly interesting task if you happen to have some asphalt shingles. Luckily there are a few methods that you can use to help you in removing creosote from asphalt shingles.
Removing Roofing Stains
While trees may add beauty and property value to your home, they can also create all kinds of difficulties when it comes time to clean up. One of the more difficult issues that trees can create is roofing stains. Save some time, and money, by using some of these methods to remove your roofing stains.
Removing Stains From Asphalt Shingles
If your asphalt roof has black stains, you probably have algae living on the shingles. You can clean the roof effectively on your own with the proper tools.
Removing Stains from Shingles
Shingles on the top of you house can become stained by mildew, moss, and lichen. Molds can spread and damage the roof of the house. A high-pressure water house can remove most molds. Along with hosing off the roof, it is good to scrub the roof with chemicals such as oxalic acid, chlorine bleach, oxygen bleach, or trisodium phosphate. Always rinse the roof off, and be careful where the chemicals flow.
Removing Stains From Wood Shingles
Over time, wood shingles can begin to look dirty, stained, or overgrown with moss. With a cleaning solution and other methods, you can clean stains, dirt and moss away to make your roof look new again.
Roofing Services
The roof on your home is important. Be sure to keep it properly maintained by using a roofing service.