Light Fixtures
Light fixtures are ever where in our home. From the bathroom light fixtures, to those track light fixtures you have in your living room to even the outdoor light fixtures all need to be cleaned periodically. In our society we typically have this out of sight, out of mind mentality when it comes to our lighting needs. As such, it has probably been a while since these various light fixtures were cleaned. Take a look here for incomparable help in saving time and money when it comes to cleaning these often overlooked parts of the home.
Tips, Tricks, and Answers
The following articles are available for the 'Light Fixtures' topic. Click the article''s title (shown in bold) to see the associated article.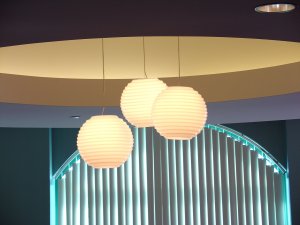 Clean Your Light Bulbs for a Brighter Day
For some reason, a dimmer house just doesn't look as clean and nice as a brighter house. To keep your house looking bright, clean your light bulbs. If you turn them off and let them cool, you will be able to safely and thoroughly dust each bulb, allowing up to 50% more light into your home.
Cleaning a Ceiling Fan
A ceiling fan can help keep the temperature of a room just right and with proper maintenance ceiling fans can last a lifetime. Cleaning the ceiling fan is part of the maintenance; read on to find out how easy they are to clean.
Cleaning Bathroom Light Fixtures
Although it can be easy to forget about cleaning the light fixtures in your bathroom, keeping them clean can make a big difference. Dust and wipe them off regularly, and do a deep-cleaning once in a while as needed.
Cleaning Ceiling Light Fixtures
Everyone knows that you need to clean your lamps, lights, and other type of fixtures. After all, if you don't you can easily end up with a dangerous mixture of dust and heat. Unfortunately, most people don't bother to think about cleaning ceiling light fixtures. Follow these directions to see how you do it properly.
Cleaning Fluorescent Lights
Lighting will serve its purpose better if the light bulb and cover are clean. Cleaning fluorescent lights is easy to do and can be incorporated into your weekly housecleaning schedule. Follow these easy tips for cleaning your fluorescent lights.
Cleaning Glass Light Fixtures
While cleaning a ceiling or wall light fixture may be difficult because of its proximity to your height, it doesn't need to be a chore if you use the proper equipment, and clean on a schedule. Cleaning glass table lamps is an easy task if you perform group cleaning, on a schedule.
Cleaning Light Fixtures in a Bathroom
Chances are you haven't cleaned your bathroom fixtures in quite a while. It's just one of those jobs we don't think about much, but if you've decided that you can't ignore them any longer, read through these tips before you get started.
Cleaning Outdoor Light Fixtures
Cleaning outdoor light fixtures is a chore that is often forgotten. Follow these tips to help your outdoor lights sparkle!
How to Clean a Chandelier
Chandeliers create a difficult and dangerous cleaning chore, but the methods presented in this tip allow you to leave the chandelier intact and hung up without too much risk of injury. Window cleaner dries easily and makes your chandelier sparkle like new, especially in the case of a glass or crystal chandelier. If you don't want to wipe your chandelier, alcohol and water can spray on and clean without any wiping.
Use Your Light Bulbs to Scent Your Rooms
Air fresheners that plug in or spray periodically can be expensive, especially when you consider the cost of refills. For a scent that comes on every time you enter a room, spray some perfume or cologne on a light bulb. Whenever you turn on the light, the perfume will heat up and its scent will fill the room.