Lampshades
Whatever lighting source you use, you typically going to have some type of lamp shades involved. Lamp shades often require a special touch when it comes to cleaning. The reason for this is simple to understand when you stop and think about how many different types of lamp shades you might just have in one room. For example you might just have glass lamp shades on your floor lamps, and in the center of your room you might have chandelier lamp shades. So, if you have ever wanted to learn just how to clean those vintage lamp shades you have take a look in here. We even tell you the best way to take care of paper ones too!
Tips, Tricks, and Answers
The following articles are available for the 'Lampshades' topic. Click the article''s title (shown in bold) to see the associated article.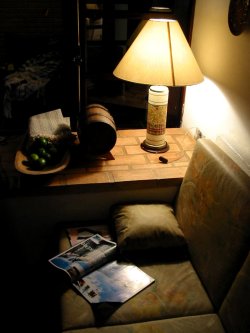 Cleaning Dirty Lampshades
Lampshades, especially cloth ones, tend to become clogged with dust and grime over time. Here is an easy way to give your lampshade a bath without damaging it. After dusting your lampshade normally, you can make it look like new by scrubbing it in a tub of sudsy water.
Cleaning Paper Lampshades
Paper lampshades are delicate and beautiful, and can add a touch of elegance to just about any decor. The thought of cleaning them can often give a person fits of anxiety. If you have thought of using these wonderful accessories in your home, then you need to know the best and easiest methods for cleaning them.
Discourage Dust from Your Lampshades
Using a dryer sheet can help your lampshades stay dust-free for longer. Since it is static electricity that makes lampshades such dust-magnets, the static-removing property to dryer sheets will help keep dust away from your shades. Dryer sheets will also leave a fresh laundry scent behind.
Keep Paper Lampshades Looking Their Best
Paper lampshades are a creative and often inexpensive way to add style and texture to a room, but you they can be fragile. If it's time to clean your lampshade and you are wondering how to do it, then rest assured that it isn't as intimidating as you might think.