Shoes
Shoes are without doubt the single most abused articles of clothing that we own. We ask our shoes to take care of us by putting up with so much that it is only fair that we take care of them as well. Instead of letting your running shoes cause you to run away in fear, make those stains and smells do the running. It also goes without saying (so I am going to say it anyway) but women's shoes are not the same as men's shoes, and you wouldn't clean them the same way either. Take a look at these quick and effective methods for cleaning your shoes.
Tips, Tricks, and Answers
The following articles are available for the 'Shoes' topic. Click the article''s title (shown in bold) to see the associated article.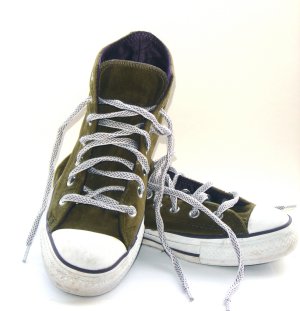 Cleaning Leather Tennis Shoes
Athletic shoes are often sorely neglected when it comes to cleaning. In this article you will find tips on how to combat odors and clean the insides and outsides of your leather tennis shoes.
Cleaning Outdoor Shoes
Outdoor shoes such as Crocs and other similar brands have become more and more popular over the years. Mainly this has happened because they are so light, and so dang comfy. But how do you get them clean? Cleaning outdoor shoes is a whole lot easier than you may think.
Deodorizing Your Favorite Shoes
Over time I have had to get rid of many beloved shoes, not because they were worn out, but because of the nasty smell that I have an unfortunate habit of leaving in them. Here are some tips to avoid the cost of buying replacement shoes every three or four months.
Easy Shoe Cleaning
Shoes are guaranteed to get dirty when you wear them. No matter what material your shoes are made of, there are ways you can clean them so they can look like new again.
Removing Stains from Tennis Shoes
Most modern tennis shoes are made out of easy-to-clean material, and can be cleaned off with warm water, soap, and some scrubbing. More soiled shoes can be cleaned with a commercial cleaning solution. Bleach and glycerin can also make a good shoe-cleaning substances if mixed correctly.
Restoring Old Tennis Shoes
There really is nothing more comfortable than a pair of old tennis shoes. However, over time these old friends become nasty looking and frankly embarrassing to wear. Taking time to restore old tennis shoes is a great way to bring some life back to an old friend. That is, as long as you do it correctly.
Shoe Cleaning
If there is one piece of clothing that everyone should know how to clean, then it has got to be shoes. The problem is that there are so many different types of shoes, that it can frankly be a tad difficult learning how to clean them all. Here are a few methods that you can use to clean some of the more popular types of shoes around.
Washing Shoes
Shoes become dirty over time, but there are ways that you can clean them. Try one of several techniques to clean up your shoes, and they may be on their way to looking as good as new again.
Washing Sneakers
Sneakers can begin to look old and worn when they become dirty. Fortunately, it doesn't take much to wash your sneakers. Try the way that works best for you.
Washing Your Sneakers and Tennis Shoes
You usually think of washing your clothes and washing your shoes isn't a thought that usually crosses your mind. However, of course your shoes get dirty and you actually can clean them. Here's how!