Brass
Brass can, and often does, add a wonderful touch of elegance to any home. By using things like brass hardware on your cabinetry, or brass wall lights and sconces or even a brass bed you are going to be able to provide a classic look that is distinctively your own. Unfortunately, brass can be a tricky metal to clean. That being said though, doesn't mean that you have to make how to clean brass your biggest stumbling block to getting your perfect look. All your cleaning questions are right here.
Tips, Tricks, and Answers
The following articles are available for the 'Brass' topic. Click the article''s title (shown in bold) to see the associated article.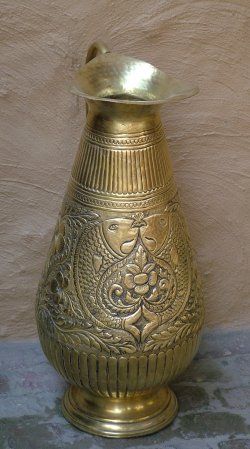 Cleaning Brass
Stains, tarnish, and buildup can easily afflict brass. These stains, however, can be removed using various methods that will take off the stain without damaging the brass. Ammonia, salt, and even toothpaste can all clean the buildup from brass objects.
Cleaning Brass Jewelry
You may be nervous about ruining your brass jewelry by cleaning or maintaining it incorrectly, but with care your jewelry can look better than ever. There are several options that you may want to try to get your jewelry looking its best.
How to Clean Antique Brass Hardware
Cleaning brass hardware sounds like a daunting task but in reality, it's a quick cleaning that will add life and shine to your hardware. Here's the information you need to quickly have your brass shining again.