Stainless Steel
Of all the metals found in home use, there is nothing that is used more often, and more regularly than stainless steel. From stainless steel cookware and stainless steel sinks, to kitchen faucets this versatile metal can be found everywhere you look. There is a really simple explanation for this phenomenon, and that is nothing is as easy to clean as stainless steel. However, just because it is the easiest to clean does not mean that it doesn't have to be cleaned. Here are the best time saving methods for keeping your various stainless steel items clean and shiny.
Tips, Tricks, and Answers
The following articles are available for the 'Stainless Steel' topic. Click the article''s title (shown in bold) to see the associated article.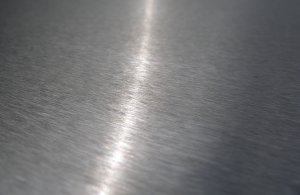 Cleaning Stainless Steel
Stainless steel provides for very sophisticated and clean looking appliances and surfaces. If you want that surface to always look great, however, you need to make sure that you keep it clean, and here's how to do that!
Cleaning Stainless Steel Kitchen Sinks
Stainless steel sinks need a little love and attention to look clean and shiny. Of the six cleaning methods given here, you're sure to find one or two that will work for you. Some involve household ingredients, while others are purchased products.
Cleaning Stainless Steel Pots and Pans
There is more to cleaning stainless steel pots and pans than just using a bit of soap and water. If you are really interested in maintaining your stainless steel cookware, then all you need to do is follow these simple instructions.
Cleaning Stainless Steel Refrigerators
Stainless steel appliances make your kitchen look great but they need to be cleaned at least two times per month to keep them looking that way. Here's the info you need to make your refrigerator look as good as it can.
Make Stainless Steel Sparkle
Anyone with stainless steel appliances knows that the metal isn't as "stainless" as the name would indicate. These easy methods to remove water spots and rust can help a well-used stainless steel sink or other fixture look great. Fluids from your refrigerator on a simple dishcloth can save your sink.
Polishing a Stainless Steel Stove
A kitchen range finished in stainless steel looks professional and clean. You can keep it looking that way by applying the tips provided here.
Remove Heavy-Duty Stains on Stainless Steel
Here are two methods for removing stains from so-called stainless steel. You can remove most stains with a mixture of ammonia and water. Some stains, however, will require a paste of borax and lemon juice to eat through the problem area.
Removing a Burn Stain from Stainless Steel Cookware
You would think that stainless steel would ensure easy cleaning of burn stains. Unfortunately that isn't the case. Here is the way to actually do it, with little or no fuss.
Removing Bleach Stains from Stainless Steel
Everyone would like to think that having a stainless steel appliance or sink means that you will never have a stain again. However, this could not be further from the truth. One of the most common causes of stainless steel stains is bleach. Removing bleach stains from stainless steel may be a little difficult, but it can be done.
Repair a Scratched Stainless Steel Sink
Stainless steel sinks take a lot of abuse in a lifetime. To revive the look of your stainless steel, use chrome polish from your local auto parts store. It will make your sink shine as if it was brand new and it will disguise any scratches in your stainless steel.
Repairing Scratched Stainless Steel
Stainless steel, though a very durable and popular choice among homeowners, can still become damaged over time. One such way that stainless steel can become damaged is by becoming scratched. Repairing scratched stainless steel can also help prevent a whole bunch of other problems, and isn't too difficult though it can be tiring work.