Shower
It is my humble opinion that the shower is probably the single greatest inventions of all time, well next to indoor plumbing that is. There is really only one problem with showers though. That problem is that they tend to get nasty and dirty over time. I hate cleaning the shower, and for me it doesn't matter if I have shower doors or shower curtains, it is still a pain. Learn from my labor and toil, and save yourself! Here's how.
Tips, Tricks, and Answers
The following articles are available for the 'Shower' topic. Click the article''s title (shown in bold) to see the associated article.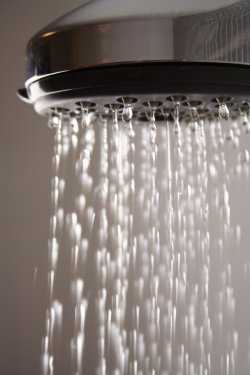 Cleaning a Shower Curtain
While it is true that you can purchase a shower curtain liner that has been manufactured with chemicals to make it mildew resistant, unless you clean the liner periodically, it can still develop everyday soap scum, mildew, and mold. Cleaning a shower curtain is easier to do than you might think.
Cleaning Dark Colored Shower Tiles
Tiling is an extremely popular choice among homeowners for their bathrooms. In large part this is due the durability, and relative ease of cleaning the material. However there are times when cleaning dark colored shower tiles can be a little frustrating. That's where these methods come into play.
Cleaning Scummy Shower Doors
Do you have glass shower doors that always seem to be covered with a soapy film? Here's a great cleaning idea that can once again give you clean, clear glass.
Cleaning Shower Doors
Shower doors can be stubborn things to clean, soap scum often builds up on them and is a pain to get off. Use household items to get those stains off and make your doors sparkle again.
Cleaning the Shower
If it's time to give your shower a good cleaning, you'll find some natural cleaning methods below. You'll also learn some simple tips for keeping your shower clean.
Cleaning the Showerhead
When your showerhead gets erratic and begins to clog up, there are several methods you can use to get your showerhead working like new. A soak in cold vinegar, hot vinegar, or Lime-Away overnight will work to loosen up the buildup. A paperclip or tack will clear out the holes in your showerhead to make the water flow evenly again.
Making Old, Hard Towels Soft Again
Keeping towels soft and fluffy over time can be a real challenge to anyone. Here are some simple ideas for revitalizing your old hardened towels. Using these simple solutions result in your towels feeling like new.
Rejuvenate the Softness and Absorbency of Your Towels
It's not uncommon that your towels lose their softness and absorbency over time. In this case there are a few ways you can rejuvenate them and bring back their initial quality.
Removing Calcium Buildup from Granite Shower Floors
If the granite flooring in your shower has started to look cloudy from calcium build-up, it is possible to clean it. Follow these tips to help you through the process.
Removing Shower Mildew
It often seems like no matter what you try to do, over time you will find yourself faced with some mildew in your shower. After all, the shower is the perfect place for it. It is usually moist, and often dark in the bathroom. Well, instead of worrying about how to get the mildew out, why not spend a little time actually removing shower mildew. It's surprisingly easy.
Removing Soap Scum
Soap scum is a problem that can be found in just about any bathroom across the country. If the proper steps aren't taken, then this gunk will buildup over time, and create a huge mess that is not only unattractive, but also somewhat nasty smelling. Removing soap scum isn't that difficult, as long as you follow the guidelines listed here.
Shower Cleaning
How can you get a clean shower area? Be sure you have the right cleaning materials and do your best to prevent build-up.