Toilet
It occurred to me recently that no one ever really wants to talk about the different toilet problems that seem to crop up. Chances are, the reason for this is that the toilet is one of the single most embarrassing things in the home. Well, if you are looking for ways to limit your time cleaning the john, then this it the place for you! And for those of you that are looking for ways to help keep that porcelain sparkling white, then look no further. Located inside are all the answers to your toilet problems.
Tips, Tricks, and Answers
The following articles are available for the 'Toilet' topic. Click the article''s title (shown in bold) to see the associated article.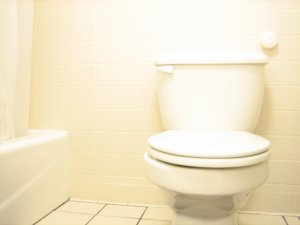 Alternative Toilet Cleansers
If you're looking for a natural or non-toxic toilet cleanser, you're sure to find one in this list. Products you can use include vinegar, lemon juice, borax, baking soda, and more.
Choosing a Toilet Bowl Cleaner
Consider the cause of the stains in your toilet before choosing a toilet bowl cleaner. Also keep in mind the composition of your toilet bowl. Fiberglass bowls will scratch easily, where porcelain bowls will withstand vigorous scrubbing. Read product labels before buying a toilet bowl cleaner and follow recommendations.
Clean Toilets
Do you hate to clean the bathroom, and especially the toilet? Learn the easiest ways to get great cleaning results!
Clean Your Toilet the Easy Way
There are lots of ways you can clean your toilet, without resorting to expensive toilet cleaners. The methods covered in this tip can work better than commercial toilet cleaners, and some can be used to fight specific types of toilet stains.
Cleaning the Mess from an Overflowed Toilet
After the initial shock of seeing your toilet overflow has worn off, your first thought is probably about how to clean it up. The key to fixing this situation is water removal first and sanitation second.
Cleaning Up After a Toilet Reversal
Cleaning up anything that has spilled from the toilet can be a dirty and disgusting job. Often when you find yourself cleaning up after a toilet reversal, it can even be worse. It is best to clean the mess as soon as possible to prevent any damage, and make sure any problems with the toilet are fixed immediately.
Dealing with Toilet Bowl Lime Scale
When most people here the term "lime scale" they think of problems in their bathtubs, showers, or maybe on the water cooler. However, one area of the home that can have fairly major issues with lime scale is the toilet. There are ways of dealing with toilet bowl lime scale, but most will require some amount of elbow grease on your part to get rid of.
Keeping a Toilet Clean and Fresh
It is obvious, and disgusting, when a toilet is not clean. With some regular cleaning, you can keep your toilet looking clean and smelling fresh.
Quick Toilet Cleaning Strategies
Although it is not a pleasant chore, cleaning the toilet can be made quick and easy with a few tips. Scrub with a toilet brush each day to prevent build-up, and use natural cleaners you have in your home to help save money.
Stubborn Toilet Bowl Rings
Over time just about anything will stain and often that includes toilet bowls. Often one of the most difficult areas to clean in the toilet bowl is the area where the water levels out. Typically a ring will form over time, and can be fairly difficult to remove. Luckily, with a little imagination and elbow grease, stubborn toilet bowl rings can soon be a thing of the past.
Toilet Bowl Cleaner
What is the best way to clean a toilet bowl? There are multiple methods of cleaning the toilet for either mild or serious jobs, so discover which works best for your situation.
Toilet Cleaners
There are few things worse than a dirty toilet. Learn what works best for all sorts of toilet stains so that you don't have to deal with a dirty toilet anymore.