Tub
The tub. It doesn't matter if you have a traditional bathtub or something that is more like a hot tub, it is going to get dirty sooner or latter. That is of course, assuming you use it. Now, as you probably know bathtubs and Jacuzzis are made out of a variety of different materials ranging from fiberglass, to ceramics such as porcelain and even from metal. All of these are going to require different methods for cleaning. The best tips, tricks and time saving methods for doing just this are found here.
Tips, Tricks, and Answers
The following articles are available for the 'Tub' topic. Click the article''s title (shown in bold) to see the associated article.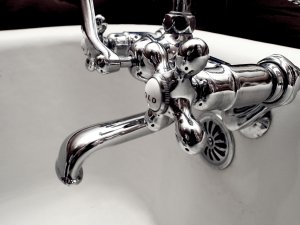 Cleaning Tubs
Cleaning the tub is known to be a tough, time-consuming job. Instead of saving the task for when it's really a mess, clean it often to prevent heavy build-up on the surface.
Getting Rid of Bathtub Rings
Bathtub rings can be difficult to remove. You need to select products and methods that won't harm your bathtub, so try these cleaning methods. They are specific to either porcelain or enamel tubs, or acrylic or fiberglass tubs.
Removing Soap Scum
Soap scum is a problem that can be found in just about any bathroom across the country. If the proper steps aren't taken, then this gunk will buildup over time, and create a huge mess that is not only unattractive, but also somewhat nasty smelling. Removing soap scum isn't that difficult, as long as you follow the guidelines listed here.
Removing Stains from Bathtubs
Dyes, hard water minerals, and mildew can build up in bathtubs and create ugly stains. To remove hard water stains, use borax or a rust remover. For dye stains, use chlorine bleach. A bleach solution will also work on mildew stains.
Tub Cleaner
Is there a dirty, stubborn film building up on your tub? Get to work cleaning to rid your tub of the mess and leave it looking terrific.
Tub Cleaning
Unfortunately, the bathtub is an area where grimy film tends to build up. This can be difficult to remove, so you'll need to implement through proper cleaning methods.