Tile
It might surprise you to know how widely tile is used in our homes and offices. Tiles does not only mean the ceramic tiles that are used in tile floors, but also the ceiling tiles used in offices, as well as the carpet tiles that some office and homes use. Carpet tiles are not going to be cleaned or maintained in the same manner that the glass tile wall or window is. Because tiles are so widely used in our world, if you have the responsibility to care for them (and if you live in a home then you do) you might want a few hints to help save you some time during your next cleaning exercise. Look inside our ever expanding library here, and you will find the best ways to take care of your tiles. In fact, you even might be able to find out how to take care of that mosaic tile birdbath in your garden.
Tips, Tricks, and Answers
The following articles are available for the 'Tile' topic. Click the article''s title (shown in bold) to see the associated article.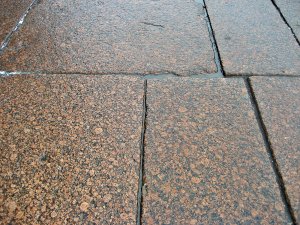 Ceramic Tile Cleaning
Do you have ceramic tile in your home but aren't sure how to go about cleaning it? Taking care of this tile can be easy and quick as long as you don't let messes build up.
Clean Marble and Slate with Ease
Marble and slate get dirty easily, picking up marks and dirt in their tiny crevices. Instead of using commercial marble cleaners, make your own paste out of water, lemon, and baking soda. Simply rub the paste onto your marble or slate, rinse it clean, and dry it with a clean cloth.
Cleaning and Sealing Grout
Grout seems to be something that only a tile-lover could appreciate. Keep yours clean with the following tips.
Cleaning Bathroom Tiles
Use natural household products to clean your bathroom tiles in this easy method. You'll also learn a few tips to keep your tile cleaner longer.
Cleaning Kitchen Tile and Grout
Tile and grout can be found more and more frequently in the kitchen as well as in the bathroom. So it's not just the bathroom where you are going to find tile and grout anymore. Since this material is finding more use throughout the rest of the home, it only stands to reason that you want to learn how to clean it—here's how.
Cleaning Mosaic Tile
Mosaic tile patterns are a lovely addition to your home's decor. You should, however, be certain that you properly clean these tiled surfaces to keep them in good condition.
Cleaning Soda Pop from Tile
Tiles can be found in the kitchens of most homes throughout the country, and since soda pop is such a popular drink, it only makes sense that you would eventually need to remove a stain. Cleaning soda pop from tile isn't that hard, just follow these simple instructions.
Cleaning Spilled Milk
Growing up we were always told to never cry over spilled milk. But what about the stains left behind? Crying over those won't get them clean either, but here is what you can do.
Cleaning Stored Tile
Have you ever noticed that there are times when even the things that we are storing for later use get dirty? This happens with just about everything, and tile is no different. If you have been saving some tile for later use, then you may find yourself in need of doing some cleaning. Here's how you can do that.
Cleaning Tile and Grout
Tile and grout in your bathroom or kitchen can get dirty pretty easily, and if you want to make sure that your tiled areas look as great as possible, you need to make sure that you keep your tile and grout clean. If you're not sure how to do that, then here are some ways to get you started.
Cleaning Tile Floors
Tile floors look great, but they need to be taken care of. To make this flooring last, clean it regularly to rid the area of spots and stains.
Cleaning Travertine
Travertine is a high maintenance stone, formed from limestone deposits. When used in kitchens and bathrooms, care must be exercised in what contacts the surface, as stains are irreversible. Cleaning travertine takes diligence and patience. Follow these tips to clean your travertine.
Getting Rid of "Blurry" Tiles
When you don't clean the tiles found in your home properly, they can easily end up looking all kinds of blurry. Getting rid of "blurry" tiles isn't that difficult. All you really need to do is make sure that you clean them right the first time out. Here's how.
Grout Cleaner
Grout can be tricky to get totally clean. Instead of struggling with the same old methods of cleaning, try one of these ideas to get clean grout.
How to Clean Tile
Tile can make a beautiful addition to your home, but it can be hard to keep clean. Take care of it correctly and it will look beautiful and new for years.
Keep Your Mosaic Tile Looking New
Mosaics decorate things from the most imposing of Roman Palaces down to the funky flavia mirror hanging in your hallway. Mosaics' versatility and uniqueness make it a popular decorating choice, and if you are lucky enough to own such a piece, you will want to keep it looking its best.
Polishing Ceramic Tiles
Ceramic tile is an extremely durable and relatively cheap material, all of which makes it more attractive to home owners and builders. Due to reasons such as these it is a pretty safe bet that there are some ceramic tiles in your home. There are times when cleaning alone isn't going to cut it; that is when polishing comes into play. Luckily, it's not that hard to do.
Porcelain Tile Cleaning
Do you have porcelain tile flooring in your home? Remember to clean it properly to ensure it will last and look great for years.
Protecting Tile Floors
One of the most popular choices in home flooring is tile floors. When used properly, tile floors can greatly enhance the look and feel of any room. However, particular care must be used to protect these floors from unwanted damage, most especially when you use heavy furniture or appliances. Read on to find out exactly how easy protecting tile floors can be.
Remove Hard Water Stains from Grout
If you happen to have tile in your kitchen or bathroom, then chances are you will have to deal with hard water stains on the grout from time to time. You can remove hard water stains from grout yourself without the need of having to call in a professional. Just use these methods, and you will love the results.
Removing Paint from Tile
Removing paint from tile, while frustrating, is entirely possible. All you need to do is know how, and apply a little bit of elbow grease. While the elbow grease may be up to you, the how to part of that equation is provided here. Use one of these methods to begin removing that paint from the tile today.
Removing Stains from Grout
Begin cleaning grout by applying a liquid cleaner. To make cleaning easier in the future, use a grout sealer, and do not walk over your tiles with dirty shoes. If there is already mold and mildew, scrub the grout gently with chlorine bleach diluted with a little water. For rust and other stains, use either a commercial cleaner, or using a mixture of baking soda, ammonia, and white vinegar diluted in water.
Removing Stains from Tile
Most stains on tile come in the form of hard water, mildew, or rust. Rust must be removed with a commercial rust remover, but oil and organic stains can be removed with standard household cleaners. Grout stains can also be removed with a simple household chemical mixture.
Removing Stains from Travertine
Stains in travertine are difficult to remove because the stone is porous and delicate. Try Murphy's Oil Soap or a poultice with hydrogen peroxide, as described below. If the travertine has become etched, only a stone professional will be able to repair it.
Removing Wine Stains from Tile Countertops
Wine stains quickly and should be cleaned immediately with warm soapy water. A solution of water, peroxide, and soap applied directly on the stain and left tot sit for an hour will lift the stain out of most tiles and grout, a darker stain may need a couple applications. Getting the stain out of grout may call for a little scrubbing but with the solution it should come out.
Steam Cleaning Tile Floors
Steam cleaning is a great method to clean and disinfect any kind of floor. It works especially well on tile floors because it can remove stains from grout. This article will give you four reasons to steam-clean your floors and the four-step process to go about using a steam-cleaning mop.
Stubborn Tile Stains
Stubborn tile stains can come from just about any source, anything from a dripping faucet, to an exceptionally high amount of iron in the water. In fact, one of the most common causes for stubborn tile stains is leaving a shower dripping for the weekend. Dealing with stubborn tile stains can be a major pain...that is, until now.
Tile and Grout Cleaning
Do you have tile in your home? Cleaning the tile and grout regularly can really improve their overall appearance.
Tile Cleaner
Tile can look great in any house, but not if the tile looks dirty. Clean your tile floors, counters, and walls using specific cleaners and methods for great results.
Tile Cleaning
Tile makes a lovely addition to almost any room. Of course, tile won't stay looking great for long unless you clean and maintain it properly.