Books
"May blessings be upon the head of Cadmus, the Phoenicians, or whoever it was that invented books." (Thomas Carlyle)
Your books are the real you. They show your interests, your studies, you predilections, and your culture. Books can last thousands of years—or not. Books in good condition invite your children to read them, and your library can become a family legacy. Here are some ideas to keep Father Time out of your book collection.
Tips, Tricks, and Answers
The following articles are available for the 'Books' topic. Click the article''s title (shown in bold) to see the associated article.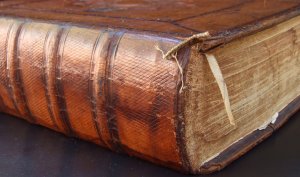 Cleaning Books
These useful tips can help you to keep all of your books clean and inviting for everyone in the family. Dust, mold, mildew, and mites can all be easily removed with a little attention to each book in your library. These tips will instruct you on the basic methods of book care.
Drying Out Wet Books
Maybe it is a priceless heirloom, an irreplaceable gift, a sentimental piece—or maybe you just don't want to go out and buy a new book. For whatever reason, you have a soaked sheaf of papers that is threatening to turn to mush or, even worse, start growing mold. Here is a method for saving your soggy book and even preventing it from developing that crinkly paged, waterlogged look.