Concrete
Concrete and, to a smaller extent, cement are found just about everywhere in our homes. In the construction of new homes, we are seeing a departure from the use of decorative concrete for something that is more substantial. One example of this would be the increasing use of concrete countertops and the ongoing use of concrete to make the patio for the home. With the increased use of concrete in our homes, there is understandably going to be an increased chance for a concrete stain, or other problem to arise. Use these simple and inexpensive methods to keep your concrete looking good.
Tips, Tricks, and Answers
The following articles are available for the 'Concrete' topic. Click the article''s title (shown in bold) to see the associated article.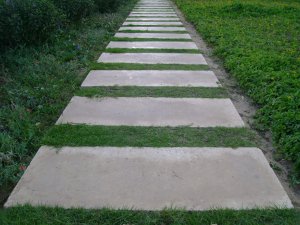 Bubble Stained Concrete
One of the most favored of all children's toys is that bubble solution that you can use to blow bubbles. However, this beloved child's toy can leave some huge messes behind. One of the more common types of problems is bubble stained concrete. Here's what you need to do to get rid of these stains.
Cleaning Concrete
Cleaning concrete is actually something that is easier to do than what many people believe. Whether you need to clean a concrete floor, wall, driveway, sidewalk, or patio the general method will be the same. Once you know that method, you can save money by doing the work yourself. Here's how.
Cleaning Greasy Concrete
Whether it is because of your last barbecue got a little too messy, or your car has sprung a leak greasy concrete can be a problem. What's more, is that you are usually the one that has to take care of that problem. Here is a sure fire way for you to go about cleaning greasy concrete, and make sure that it is clean.
Cleaning Your Driveway
While you can use dangerous chemicals to clean your driveway, first try simple household chemicals, one at a time. You might find something that works just as well as a costly product. Always wear protective gear when using chemicals, and while cleaning your driveway, make sure that pets and children are not nearby.
Lifting Stains from Your Garage Floor
Your garage is the part of your house that you think the least about, but also takes the most abuse. If the grease stains on your concrete have gotten so bad that they are grabbing your attention, it may be time to do something about them.
Preventing Common Garage Stains
Prevention really is worth a pound of cure. Prevent stains by making sure that you have a place for everything in your garage. Place paint cans onto shelving instead of the floor. House hardware such as nails and screws in bins so that they won't leave behind rust stains if they're scattered on the floor. Repair engine leaks in your car, lawnmower, snow blower, motorcycle, and garden tiller. Seal your garage floor once it's completely clean, using a quality product.
Removing Adhesive Stains from Concrete
Removing glue and adhesive stains from concrete is one of the most frustrating tasks in remodeling a porch or floor. Following these simple steps removes that frustration from your project.
Removing Oil Stains from Concrete
Oil stains in concrete are difficult to remove since they have to be absorbed out. Start by laying down kitty litter or sawdust and letting it sit for a few days. Move on to dry concrete after that. If that does not work, use a heavy-duty oven cleaner. All of these methods will need to sit for a few days, so make sure to cover everything with a weighed-down tarp while the solution sets.
Removing Old Oil Stains from Concrete
Whether you are a gear head who likes to tinker with vehicles, you have a leaky car, or you simply have moved into a new home chances are you have a few old oil stains around. Removing old oil stains from concrete is something anyone can do, if the proper steps are known.
Removing Rust from Concrete
Rust stains can usually be pretty annoying when trying to remove them from concrete. While it may be a little bit difficult, removing rust from concrete is something that anyone can do, if they only take a little time to properly get themselves ready.
Removing Rust Stains from Driveways
When removing rust stain from your driveway you want to start with the mild cleaners and if they do not work move on to the more heavy duty solutions. Lemon juice can remove lighter stains, rust removers are good for darker or large stains, and muratic acid can be used as a last resort for most stains. These can be used on cement, pavers and asphalt, except for the acid which should not be used on asphalt.
Removing Stains from Concrete Floors
Various concrete stains can be removed with a little scrubbing and the right chemicals. Here you will find a guide to the right chemicals for most concrete stains and simple instructions for how to use them. Cleaning concrete stains can take anywhere from several minutes of scrubbing to several days of soaking.
Removing Tree and Leaf Stains from Concrete
You wouldn't usually worry about the concrete around your home. It is so nondescript that it hardly draws attention to itself. That is, until it develops an ugly stain—a stain caused by something so simple as dead leaves or old wood. Here are some tips on how to prevent and remove tree and leaf stains from your cement.
Removing Wood Stain from Concrete
One of the most common, and simplest, home improvement projects is staining the deck, steps, or wood trim around the home. Since it is one of the most common projects around, one of the most common cleanup problems is removing wood stain from concrete. Here are some great ideas on exactly how you can remove wood stain from your own concrete.
Safely Using Muriatic Acid to Clean Your Driveway
If you have a seriously stained driveway, there is one surefire method that you can use to ensure you get it clean. The trick lies in safely using muriatic acid.