Doors
Have you ever stopped to think about how many doors there are in our lives? Just around the house you have a front door, a back door, interior doors and exterior doors. There are even different styles for you to use as a door, two popular choices of which are glass doors and also French doors. With all the constant opening and closing going on, the door can quickly become a dirty and nasty mess. Help our friend the door, by learning the most effective, inexpensive and efficient methods for keeping them clean.
Tips, Tricks, and Answers
The following articles are available for the 'Doors' topic. Click the article''s title (shown in bold) to see the associated article.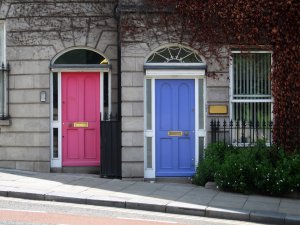 Cleaning Glass Doors
Use this simple method to get your glass doors really clean without streaks. You'll just need squeegee, sponge, soapy water, towel, and microfiber cloth.
Cleaning Handprints from Doors and Jambs
Of all the parts of a wall that you can expect to find a few handprints, the most-likely place has got to be the doors and jambs. Cleaning handprints from doors and jambs doesn't have to be all that difficult a task. All you need to do is follow these directions.
Cleaning Your Exterior Doors
Wood front doors should be cleaned with Murphy Oil Soap, while other types of doors can be cleaned with mild soap and water. Read on for some additional tips to get your exterior doors really clean.
Cleaning Your Interior Doors
It's simple to clean the doors in your home: dust, wash, dry, clean hardware, sanitize. Read more about the process below. Also learn how to clean wood doors with oil soap.
Make Cleaning Doors a Priority
Doors get touched constantly. They need to be cleaned as much as any other surface in your home since they easily pick up both fingerprints and bacteria. Make sure to use an antibacterial wipe or spray on doorknobs and to wipe off the dust on top of your doors.
Restoring White Doors
White doors are a common choice in many homes around the world. In large part this is because white often goes with just about any color scheme that you may use to decorate your home. Over time, however, white doors can become yellowed and dingy due to age and other factors. In such situations, try restoring white doors before you replace them.