Brick and Stone
It doesn't matter if you have brick walls, or stone. Masonry like your fireplace and flagging pavers are going to take a different approach than with traditional cleaning. After all, have you ever really tried getting stains out of old brick walls? How about removing that oil stain on the concrete? Soot stains from the fireplace? Each of these scenarios can be an all day experience if you don't know what to do.
Tips, Tricks, and Answers
The following articles are available for the 'Brick and Stone' topic. Click the article''s title (shown in bold) to see the associated article.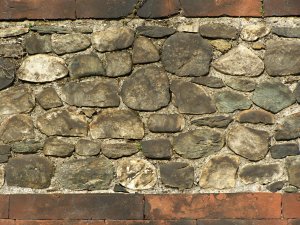 Clean Marble and Slate with Ease
Marble and slate get dirty easily, picking up marks and dirt in their tiny crevices. Instead of using commercial marble cleaners, make your own paste out of water, lemon, and baking soda. Simply rub the paste onto your marble or slate, rinse it clean, and dry it with a clean cloth.
Clean Up Soot and Your Fireplace
These neat tricks allow you to easily remove soot and ash from the inner surfaces of your fireplace. If you add salt to your next fire, it will take the soot right off of your fireplace stone or bricks. A mixture of vinegar, ammonia, and water will make a great cleaner for your fireplace door, and if you place foil in the bottom of your fireplace, it will allow you to pick up your ashes with ease.
Cleaning Brick and Stone
Outdoor bricks naturally build up grime and become dull over time. Use these easy methods to renew the look of your masonry. There are various methods of cleaning bricks, from scraping and power washing to chemical methods.
Cleaning Granite
Granite can be a beautiful addition to your home. Read here for information on how to clean it without hurting it.
Cleaning Granite Countertops
While granite is a natural, tough, non-porous stone, you still need to follow specific guidelines when cleaning your granite countertops. Make sure that your granite countertops are properly sealed, cleaned often, and not abused, and they will serve you well for many years.
Cleaning Masonry
Cleaning your masonry will help keep it in tip top shape and make it look newer. Using simple cleaners like soap, water and poultices will help you keep it in good form.
Cleaning Quartz Countertops
Do you have quartz countertops or are interested in having them installed in your home? This surface is quickly becoming more and more popular, and with good reason. Quartz is durable, easy to maintain and simple to clean.
Cleaning Stone Kitchen Sinks
There are four main types of stone used to make kitchen sinks. They are marble, granite, limestone, and soapstone. How you clean your stone sink depends on the type of stone used for your sink.
Cleaning Travertine
Travertine is a high maintenance stone, formed from limestone deposits. When used in kitchens and bathrooms, care must be exercised in what contacts the surface, as stains are irreversible. Cleaning travertine takes diligence and patience. Follow these tips to clean your travertine.
Getting Marble Clean
Marble is a fairly popular choice among homeowners today. Not only is it a popular choice for countertops, but also for flooring as well. If you have some in your home, cleaning marble isn't that difficult as long as you do it right.
Getting Rid of Marble Streaks
Marble countertops are a beautiful addition to any kitchen or bathroom. However, they do have a tendency to streak if you do not clean them properly. Here are a few tips that you can use to ensure that you get a streak free surface in no time.
Limestone Stain Removal
Limestone is an extremely popular choice in outdoor patio materials. As such, chances are really good that if you don't already, then some day soon, you will need to know exactly how to properly clean limestone. Luckily, limestone stain removal, while it may be time consuming, isn't that hard. Here's how you do it.
Removing Oil Stains from Marble
Since marble is a porous stone, it can easily soak up oil, leaving a stain that is difficult to remove if not caught early. Follow these tips to remove oil stains from your marble countertops and floors.
Removing Soot Stains From the Mantel
Just about everyone loves to see a fireplace whenever they go to look at a new home or go away on a vacation. However, what many people do not realize is that these wonderfully romantic additions to any home can be a wonderfully major hassle to clean. Here is everything that you need to know about removing soot stains from the mantel of your home fireplace.
Removing Stains from Marble
Marble is a porous stone that attracts stains from all manner of liquids, including water. Make sure while cleaning marble to use neutral cleaning agents to not damage it. Examples of neutral agents to use are baking soda, hydrogen peroxide, and cornstarch. Always blot at the stain rather than wiping it. If you want to make life easier in the future, use a sealant to keep the marble clean.
Removing Wine Stains from Stone Countertops
Stains in stone countertops can usually be lifted out with a stone cleaner or a mild detergent and some warm water. For tougher stains a paste made from Oxy-Clean and water left to dry on the spot will extract the stain and not harm the counter. You can also use a poultice to get rid of the stain, or call your installer for some other hints.
Restoring Yellowed Cultured Marble
Cultured marble can provide a wonderful touch of elegance to any room, and greatly enhance the charm of any home. However, over time cultured marble can become yellowed and discolored with age. Restoring yellowed cultured marble is a great way to bring back that beautiful look, while also giving your home a wonderful new look.