Computers
Computers—ya gotta love 'em. When you got your computer (either lap top or desktop) did you ever really think that they were going to be such a hassle to keep clean and running? From the fingerprint smudges that seem to magically appear on a laptops screen, to the periodic cleaning of your hard drive on any type of computer, cleaning of our computers is something that needs to be done. If you would like to know the best methods available for being able to handle your computer cleaning needs, then look no further. All your answers are going to be listed below in our ever expanding library.
Tips, Tricks, and Answers
The following articles are available for the 'Computers' topic. Click the article''s title (shown in bold) to see the associated article.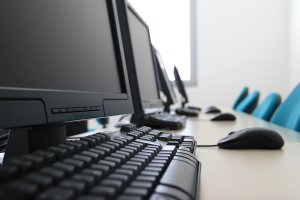 Cartridge Cleaning
Are you worried that there is something wrong with your printer? You might just need to make sure the ink cartridge is clean.
Cleaning a Computer
Chances are you have spent a lot of money on your computer. Keep the hardware and software nice and in good condition by following these tips.
Cleaning an LCD Screen
LCD screens are great, providing crystal-clear images and outstanding performance. If the screen gets dirty, you need to be careful that you clean it the right way so that you don't damage it. This tip can help you get rid of the gunk and restore the picture to a like-new quality.
Cleaning LCD Computer Screens
Due to the reduced size and weight of LCD computer screens they have become increasingly popular in both the home and office. With this increase in popularity comes a necessity of knowing how to clean those LCD computer screens. Here's how you can do that quickly, easily, and (most importantly) inexpensively.
Cleaning LCD Screens
The most important thing to remember when using and cleaning your LCD screens is that they are not made of glass, and should never be cleaned with a glass cleaner. Avoid pressing on the surface of a LCD screen, as you may damage the crystals beneath the thin, soft film.
Cleaning Your Laptop Computer
If your laptop is over a year old, and you notice that it isn't running well or makes loud noises, then it may be time to clean it. Cleaning the case, the openings, keyboard, and display are easily accomplished. If you surmise that there is more dirt and dust trapped inside, you probably should allow an expert to take apart your laptop and clean it.
Computer Cleaning Kit
Do you have the tools necessary to keep your computer clean? Create a computer cleaning kit so you will always have what you need on hand.
Computer Cleaning Software
If your computer is running slow, there may be a problem. Computer cleaning software can help you tidy up your computer and get it running correctly.
Computer Screen Cleaning
Have you noticed how dirty and dusty your computer screen can get? Clean it carefully to leave the screen clear and free of dust.
How to Clean Your Computer
If you have a computer, then you know just how expensive that they can be. Learning how to clean your computer can help ensure that you do not need to replace this expensive item any time soon. Considering how delicate most computers are, you need to make sure that you are cleaning it the right way though.
Keyboard Cleaners
Your keyboard is a vital part of your computer. By keeping it clean, you can ensure that it will continue to work well.
Laptop Cleaning
Having a laptop is a great convenience, but what do you do when it stops working properly? Why, you clean it, of course.