Kitchen
Without doubt, kitchens see the most use and abuse in the average home. It doesn't matter if it is one of the traditional kitchens or the newer outdoor kitchens we are talking about (though this does seem to depend on the season) they are going to need to be cleaned. Outdoor kitchens are not necessarily cleaned in the same manner that normal kitchens are, nor are kitchen cabinets cleaned in the same manner as kitchen sinks. Each of these different parts of a kitchen is going to need different cleaning methods. Since it would be literally impossible for anyone to know the answers to the myriad of kitchen cleaning questions, take a look at our ever expanding library. You'll be pleasantly surprised at the results.
Tips, Tricks, and Answers
The following articles are available for the 'Kitchen' topic. Click the article''s title (shown in bold) to see the associated article.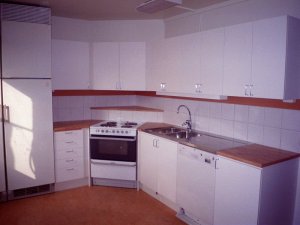 Butcher Block Cleaning
Whether it is an entire countertop, table, or simply a cutting board, butcher blocks can be an attractive and useful addition to any kitchen. However, there are a few steps that you need to know about proper butcher block cleaning. That is, if you don't want to accidentally ruin the block or get sick.
Caring for Copper Kitchen Sinks
Do you have a copper kitchen sink in your home? If so, then hopefully you know the proper way to care for it. Otherwise, you may end up with a huge problem on your hands. Here are a few simple guidelines designed to help you learn the proper way of caring for copper kitchen sinks.
Clean and Deodorize Your Wood Cutting Board
Wood cutting boards, especially those used for meat, can build up bacteria and stains quickly. Lemon juice is a huge help in cleaning and deodorizing the wood. Salt can act as a natural abrasive to help in scrubbing out stains.
Clean Behind Your Kitchen Appliances
Make a regular schedule to clean behind your large kitchen appliances, penciling it into your cleaning calendar once or twice yearly. Clean behind your small kitchen appliances once a week.
Cleaning a Dutch Oven
Used over an open campfire, a Dutch oven is a true oven; meaning that you can prepare pies, biscuits, cakes, and breads, just as you would at home in your range oven. When heated, a smaller baking pan can be placed inside the Dutch oven, with the lid tightly capped, to create a smaller outdoor version of your home oven. When cleaning a seasoned Dutch oven, simply wipe it out with a wet cloth, pat it dry with paper towels, and store it. New Dutch ovens require more care.
Cleaning a Rusty Knife
Knives often become dull or rusty. You can use a manual knife sharpener, a machine, or a whetstone to bring your knives to their original sharpness. To remove rust from a knife, simply chop up an onion.
Cleaning a Teapot
To keep your teapot functioning and looking its best, clean it by soaking it overnight in a solution of vinegar, baking soda, or denture tablets. Always remember to let it dry upside-down.
Cleaning Antique Silverware
To eliminate tarnish on your precious antique silverware, use the following method to clean and polish it. This article also mentions some important DON'Ts to avoid when it comes to caring for silverware.
Cleaning Kitchen Tile and Grout
Tile and grout can be found more and more frequently in the kitchen as well as in the bathroom. So it's not just the bathroom where you are going to find tile and grout anymore. Since this material is finding more use throughout the rest of the home, it only stands to reason that you want to learn how to clean it—here's how.
Cleaning Kitchen Walls
Cleaning and keeping your kitchen walls looking great, doesn't have to take a lot of time. Just follow some of these tips, and you will have your kitchen walls looking great in no time.
Cleaning Teflon Surfaces
Teflon is perhaps one of the most popular choices in nonstick cookware. As such, the chances of you having at least one of these items in your home are pretty good. This means that you should know the basics of cleaning Teflon surfaces, unless you want to be replacing your cookware on a regular basis.
Cleaning Vegetable Steamers
Vegetable steamers are a great appliance and cooking tool to have around, at least that is until it is time to clean them. For some reason cleaning vegetable steamers have a tendency to be a difficult project. Between the vegetable bits, and the stains, it can often seem impossible to clean. That is, unless you follow this wonderful method.
Cleaning Your Cabinets
Are the cabinets in your kitchen or your bathroom looking a little dirtier than usual? Read more for tips on how to keep your cabinets clean.
Cleaning Your Freezer
Cleaning your freezer doesn't need to be an all-day job. Keep your frozen foods cold by housing them in your kitchen sink, covered with a blanket, while you quickly use spray cleaner and paper towels to clean the freezer cabinet. Wipe up spills immediately when they happen, and you shouldn't have to deep-clean your freezer but twice a year.
Cleaning Your Kitchen
Do you dread doing a deep cleaning on the kitchen? Take the job one task at a time, and you'll have a clean kitchen in no time.
Clearing the Table Quickly
While it might be fun to have friends and family over for dinner, it is never fun to clean up the table after the meal is complete. Learning the proper way of clearing the table quickly isn't all that difficult, and once you have it down pat you can spend more time visiting. After all, isn't that more enjoyable than spending the entire night cleaning?
Commercial Kitchen Cleaning
To ensure the best food quality and service, a commercial kitchen must be properly cleaned and maintained. Each day, there are tasks that should be completed.
Counteract Kitchen Stains with Bleach
Sometimes stains can penetrate the surface of a counter. In this case, you can use bleach-soaked paper towels to penetrate the counter's surface and counteract the stain. Bleach is dangerous, so use protective gloves and special care while using it.
Disinfecting Your Kitchen Sponge
Most people don't stop to think about cleaning their cleaning tools, and that is a rather sad state of affairs. The truth of the matter is that periodically disinfecting your kitchen sponge can go a long way to helping in a variety of ways. All you need to do is follow these directions.
Get Your Kitchen Clean
The kitchen is a room where you likely spend a good amount of time. Be sure to keep this area neat, sanitary, and presentable.
Getting Family to Help Clean After Mealtimes
Do you live in a home where it seems like it is only one person's responsibility to do all the post dinner clean up? Would you like to see your family help out more with the dishes, table clearing, or simply general after meal clean up? If so, you really can't miss out on this information.
Kitchen Cleaner
We spend a lot of time in the kitchen area each day. It is vital that this room is kept clean by using the proper kitchen cleaners.
Kitchen Cleaners
What should you use to get your kitchen looking great? It is a good idea to consider which cleaners are best for each surface in your kitchen.
Kitchen Cleaning
Cleaning your kitchen can be a very overwhelming thing, but it needn't be. After all, with all the different types of surfaces, appliances, and little nooks and crannies its no wonder that a person can be a little intimidated. Just take it one task at a time and you'll be done in no time!
Kitchen Cleaning Supplies
The areas of your home have different cleaning needs. Have the right supplies to get cleaning jobs done in your kitchen.
Outdoor Kitchen Cleaning Strategies
Because they differ from regular indoor kitchens, outdoor kitchens may require different cleaning methods. There are various strategies you can use to make your outdoor kitchen look beautifully clean.
Polishing Silver
Used to make flatware, jewelry, and dishes, silver is a versatile metal. While not as soft as gold, silver is soft and can scratch, dent, and bend. Use great care when washing and polishing silver when it tarnishes, and make sure that you use quality polishes and creams when you wash and polish your silver, and never use tarnish dips commonly hawked in television commercials.
Removing Bleach Stains from Stainless Steel
Everyone would like to think that having a stainless steel appliance or sink means that you will never have a stain again. However, this could not be further from the truth. One of the most common causes of stainless steel stains is bleach. Removing bleach stains from stainless steel may be a little difficult, but it can be done.
Removing Copper Stains
If you have some copper stains left by pipe water on the floor of your shower, or at the bottom of your sink, never fear. While it may seem a little difficult at first to get rid of this pernicious stain, it is possible. All you need to do is follow this method, and you will find that removing copper stains isn't as hard as it used to be.
Removing Lime Scale from Stainless Steel
Even at the best of times, lime scale can be somewhat difficult to remove. When dealing with stainless steel, it often seems harder. Often, the reason for this is that you have to be careful when removing lime scale from stainless steel, since you can accidentally create more of a problem than you intended. Here are a few methods that you can use get the job done.
Removing Powder from Grout
Tile is perhaps one of the most commonly used surfaces in both the bathroom and kitchen today. Since it is so common, it only makes sense that over time that all kinds of powders will get caught up in the grouting. Removing powder from grout is possible, though you will need to work at it.
Restoring Copper Sinks
Since copper sinks are metal, their patina will invariably change color over time. This is a normal and expected process that adds beauty and charm to the kitchen and home. However, there are times when this happens due to unforeseen happenstance. Restoring copper sinks can be done, if you only follow a few simple guidelines.
Sanitizing Microfiber
Microfibers cloths are a great tool for getting things clean, but have you ever wondered how you can clean these cloths themselves? It's not hard or difficult, but sanitizing microfiber does need to be done a certain way. If you don't, then you run the risk of ruining one of your greatest cleaning tools.
Unclogging Drains
Having a clogged drain can be a pretty annoying problem. All that dirty water just makes you sick to think about it. Luckily, unclogging drains doesn't need to be an expensive or difficult task. Follow these guidelines to get your drains unclogged now.